10 records elucidated by Fred Hystère
If you're interested in electro-acoustic and obscure sounds you should consider paying a visit to OOR Records in Zurich and ask for Anna Frei. Anna, one of seven enthusiasts running this very specialized place, is definitely the right person to guide you. Talking ain't your thing? Then look out for her alias Fred Hystère and let her stunning polyrhythmic Dj Sets do the talking. Either way it's already an adventurous journey to read Anna's liner notes about her current favorites.


Note: Most of the selected tracks are available at OOR Records / Zurich
In 2015 Art Into Live released the first extensive archival release of French composer and performance artist Manon Anne Gillis, who began creating sound works and performance-pieces in the early 1980s in Paris. Gillis' dense, intricate and intimate work meanders through moirés of repetitive synth pulses, interwoven raw cut-up techniques, ancient industrial dreams, manipulated and manipulative voices. Within her performative sound practice she questions bodily functions and codes using her own body, found objects and tape-loops. The Box Set includes her entire discography, all collaborations and 11 unreleased tracks. Deep bow!

First released in 1986, Arnold Dreyblatt's «Propellers in Love» is a rhythmically demanding exploration of resonances and overtones generated by stringed instruments and percussion. With contrabass, miniature piano, piano wire, violin and percussion the orchestra generates an exquisite density of rhythmical interlockings and erratic drones. The second-generation American minimalist beauty is, thanks to higher powers, reissued on Superior Viaduct.
The new release of the collaborative project Bellows by Italian electro-acoustic composers Giuseppe Ielasi and Nicola Ratti is out now on Bartholomé's and Felicia's highly valued Shelter Press Label. Recorded at Ratti's very own Standard Studio in Milan (which is also a vivid concert space and meeting point for Milan's experimental scene) the album was captured during a four day impro-session. Tracks float between acoustic sound, ghostly melodies, musique concrète, analogue electronics and fragmentary beat patterns. One can hear when lovely people work together! A beauty!
1945 born Maggi Payne is a flutist, interdisciplinary artist and teacher for recording engineering, composition and electronic music. Her main compositional interest lies in the surreal, the inward, the micro, and the accumulation of physical and psychological tension. After the mind-blowing reissue of «Ahh-Ahh (Music For Ed Tannenbaum's Technological Feets 1984-1987)» in 2012 by Root Strata, Aguirre Records followed with the originally in 1986 released Crystal. Flute, spoken voice, sonifications and synthesizers are processed to create dense and massive structures, silence gently evolves into flowing transcendent drones of complex resonances and white noise floats into abstract tekk-patterns.
An amazingly multi-layered surreal and futuristic-acidy avant psychedelic jazz trip originally composed asSoundtrack for Claude Farads anarchic Film «Bof, Anatomie d'un Livreur» in 1971. French multi-instrumentalist and composer Jean Guerin takes you through bleeping and fluttering other realms of consciousness. Get lost with help of a Darbouka, Electric Bass, EMS VCS3 Synthesizer, modulated voices, Percussion, Water Trumpets and nervous Brass Instruments. The album got reissued on the Parisian label soufflecontinu in 2015.
During a research trip in 2015, investigating women in early electronic music in in the 60s in Italy, I met Fabio Carboni who runs the amazing Soundohm Distribution and Die Schachtel in Milano. I was looking for some information, traces and contacts concerning a rumour (created by art historians) that the Italian concept artist Ketty La Rocca had studied in one of the first courses for electronic music in the 60s under Pietro Grossi in Firenze. After listening to stories about the fascinating Italian composer Teresa Rampazzi, who was also the founder of the experimental sound research group Gruppo NPS (Nuove proposte Sonore) in Padua in the early 60s, and a lady called Serenella Marega, Carboni told me about Maria Teresa Luciani. A mysterious female composer behind a very rare, unreleased library/production record from 1972.
«A multi-story storage facility of found sounds, radiophonic samples, tape loops, early electronic music experiments, mechanical folk, cinematic vision, sound design, educated music theory, political pop, and high concept art-as-noise successfully layers more musical ideas within its unique structure than one would think possible for a solo artist within any musical genre.»
Now Finders Keepers Records brings light into the darkness! They just released the astonishing Concept Album «Sounds Of The City» (originally «Suoni Di Una Città») for the first time with carefully researched biographical information. Luciani was a Musicologist, Psychologist, Historian and Artist born in Sicily, living between Rome and Florence. Her brother, the technician behind the album, was an established Film soundtrack-Composer, which was the reason she had access to contemporary sound-technologies. In the 60s and 70s only established and privileged (male) composers had access to the big movie- and radio studios who controlled the newest electronic sound technologies and early synthesizers (and their necessary engineers). But today, listening to this unbelievable craziness, the dominant historical narratives should indeed tremble! Pre-Digital Sampling Culture becomes floating, multi-layered, circular, mechanic industrial-drone-psych-pop-minimal-architectures beyond imagination and way way beyond time! A visionary ghost, an Italian Dafne Oram on liquids we dream of. Grazie Sorella!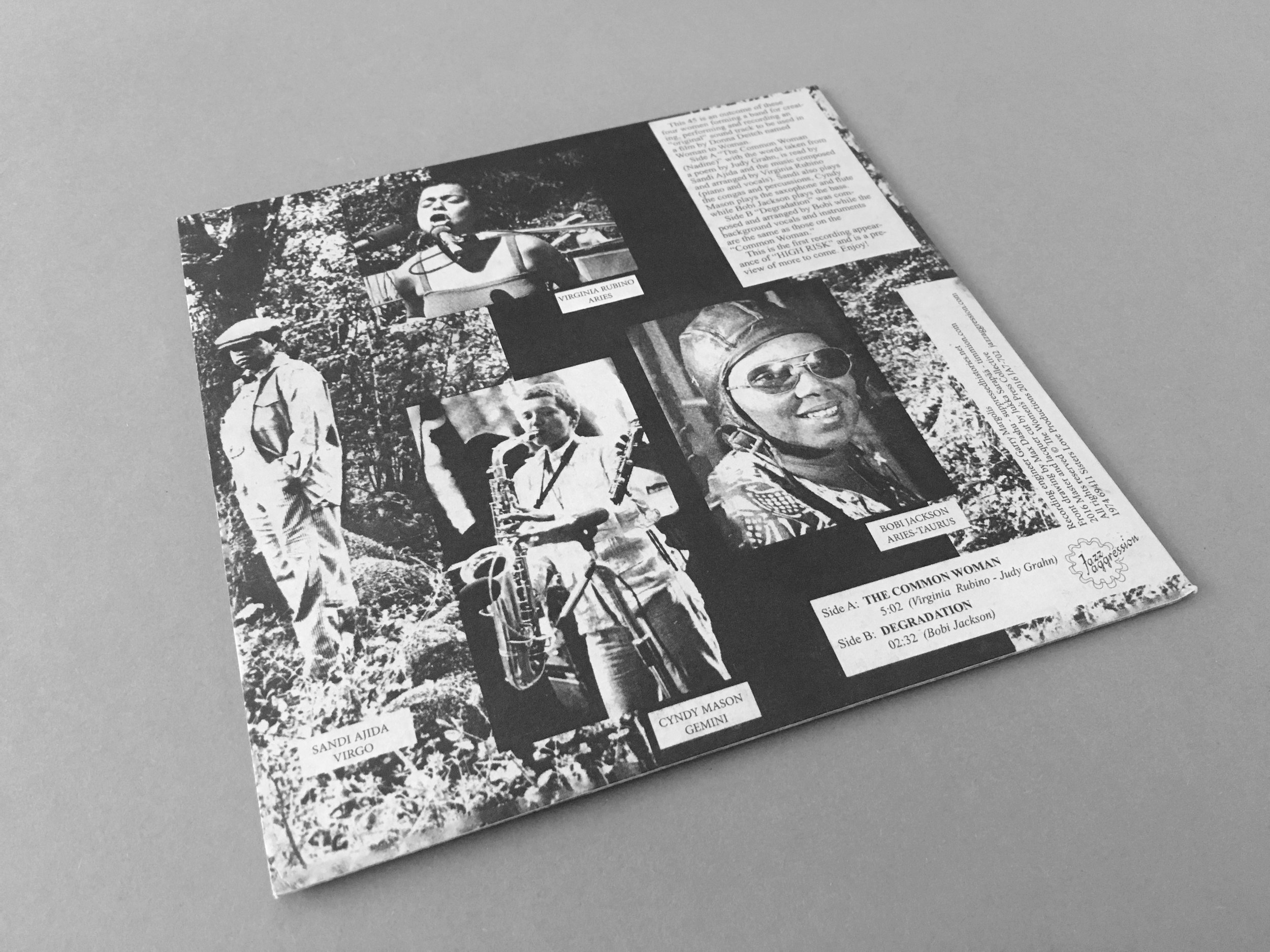 Sister Love Productions presents High Risk
Mr.Bongo
7"_2017
Sister Love Productions
Reissue of the super rare feminist, deeply soulful spiritual-jazz pearl. The originallyin 1974 released soundtrack of Donna Deitch's Documentary «Woman to Woman» was distributed by Olivia Records (one of the first lesbian feminist labels), and contains the two tracks «degradation» and «the common woman»(named after the poem-series of lesbian-feminist activist and poet Judy Grahn). An historical must-have for all the sound addict feminists out there and for all who need a lovely soundtrack to come up against the everyday white-supremacist-patriarchal walls.
In 1971, when electronic-music pioneer Suzanne Ciani was in her mid-20s, the Woodfield shopping center's developers hired her to create an immersive soundtrack to accompany a complex of three large aquariums. «I have attempted to create the subtlety and mystery of an underwater ambience with sounds 'swimming' past each other like the exotic fishes.» (Suzanne Ciani) As Philip Sherburne puts it: «Smuggling avant-garde aesthetics into the fortified heart of American commerce, Ciani designed a remarkably elegant sonic Trojan horse.» Again Finders Keepers fished out the unheard pearl of Cianis Archives and released it as carefully done one sided 7".
As cultural anthropologist and musicologist Johannes Ismael Wendt points out, knowledge of the «trek» is inherent in the sonic track. Culturally inscribed maps of traumatic histories of colonialism, slavery and migration. After the highly addictive, previously released «Kulthan» 12", Monsieur Modular Synth Maestro Robert Aiki Aubrey Lowe outlines with «Two Orb Reel» a Soundtrack for an imagined African Science Fiction. With 14 short Dark Alien-Ambient Sketches he focuses on the journey, the «trek» and «smudges what are putatively western-rooted compositional conventions». A non-linear, fluid realm where black mysticisms, metaphysics and historicities of alienation interweave with «emotions of wonder, fear and transcendence.» «We begin to understand the ways in which race, space and sex configure 'the alien' within spaces allegedly 'beyond' markers of difference' and ask: What are some ways in which the 'alien from within as well as without' can be overcome?»
(Womack)
Isolation! Meinhof In Memoriam
LP_1985
Music in Crisis
The 1929 New York born Jewish Composer and Shoe-Designer Roberta Settels moved to Sweden in the 50s, resided at the IRCAM in Paris and worked at EMS in Stockholm. Later she created and worked in her own studio in Sweden and ran a little shoe-shop in Stockholm, which still exists today.
Right after Ulrike Meinhof's ambiguous death at the end of the Stammheim-Trial in 1976, Settles started to work on her only Record «Isolation! Meinhof in Memoriam». She released it in 1985 on her own Label «Music in Crisis» ( which she founded because the label she intended to release it on chickened out because of the controversial political topic) The extremely reduced compositions are concerned with Meinhof's psychic and physical condition during hardcore solitary confinement and tries to imagine how one might hear in such a cruel, torturous and lonely situation. With «Isolation!» Settels questions legitimized inhuman practices of state violence and torture (especially against left wing intellectuals), silencing as a weapon and prison as a legal vacuum. «Isolation!»'s oppressive silences and haunting sine-waves are all generated by purely analogue means. Settles approach of an «electronic music for spiritual survival» is mirrored in this extremely psyched-out tape minimalism and communicates the conceptual aim of a sonic equivalent to an extreme emotional state in a deeply gloomy but careful way. The release comes with a custom-made plastic sleeve, liner notes in Swedish, English, German and French, written and designed by Roberta herself.
Texts & selection: Anna Frei
Pictures: Marc Jauss